Los Santos does not rest in GTA Online and every seven days there are new activities for which it is worth playing the online multiplayer of GTA V. The best way to demonstrate it is with the following guide, in which we do an extensive review of everything that will await you during the week of February 3 to 9.



All bonuses and discounts from February 3 to 9, 2022
Podium Vehicle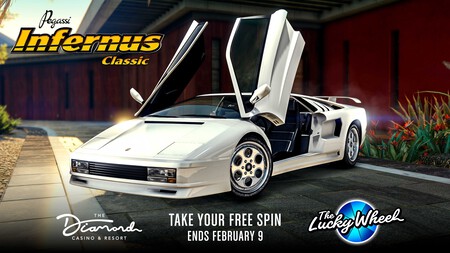 To begin with, when you visit the lobby of The Diamond Casino & Resort casino, don't miss out on the opportunity to test if luck is with you with the Wheel of Fortune, which will allow you to take money, clothes, accessories or the vehicle of the this week's podium, which is none other than the Pegassi Infernus Classic.
What are GTA V roleplay servers, why have they become so popular and how to start playing
Items to get for free
Another great reason to play is that there is a car and a t-shirt that you can easily add to your collection for free. In the following guides we explain the method to get hold of those coveted items.
How to get free Pfister Comet S2 car
How to get the white Born x Raised t-shirt for free
Additional rewards and bonuses
But if there is a real reason to connect to the game, it is its additional bonuses in certain game modes to bring you more rewards than normal. Specifically in the following:
Pursuit Series Races: Prove that there is no one faster than you behind the wheel and in return you will earn double reputation from the LS Car Meet.
Rare Exports and Safety Contracts: When you open your own business, the automotive community will give you contracts for safety and obtaining foreign vehicles in unusual exports. A great way to earn double dollars and reputation points for completing assignments.
Sumo: In this mode you will have to ram and drive the rival vehicles to get them out of the designated area. Regardless of whether you get away with it or not, you will receive double dollars and reputation points.
Transform Races: Exciting races that will put your reflexes to the test as you have to instantly switch from a sports car to a fighter to claim victory. Just for participating you will get double dollars and reputation points.
Discounts
In the discounts section we find that the Los Santos Tuners workshops have reduced their price by 30%, as well as their modifications and improvements. In addition, you will be able to purchase the Coil Compact EMP Launcher for 25% less than usual and the following vehicles that are also on sale:
Bravado Gauntlet Classic Custom – $570,500 (was $815,000, 30% off)
Coil Cyclone – $1,417,500 (was $1,890,000, 25% off)
Dewbauchee Vagner – $1,151,250 (was $1,535,000, 25% off)
Emperor Vectre – $1,249,500 (was $1,785,000, 30% off)
Pfister Astron – $1,106,000 (was $1,580,000, 30% off)
Vapid Peyote Custom – $496,000 (was $620,000, 20% off)
Western Besra – $805,000 (was $1,150,000, 30% off)
Übermacht Cypher – $1,085,000 (was $1,550,000, 30% off)
Bonuses with Prime Gaming
Finally, those who are subscribed to Prime Gaming and have linked their account with the Rockstar Games Social Club will have a good excuse to play these days, because just for the simple fact of connecting at any time of the week will get $100,000 free.
More GTA Online Guides
GTA Online Guide: Cheats, Secrets and Best Tips
19 tips and tricks for GTA V after playing seven years that I would give to a newbie
How to get free money in GTA Online
GTA Online: Cayo Perico map with the location of all daily treasure chests
GTA Online: map of Cayo Perico with the location of all the motorcycles
GTA Online: how to save your money from your mobile or bank so that they don't steal you
The best weapons in GTA Online: stats, tier list and how to get them
The most expensive weapons in GTA Online: stats and how to get them
The best assault rifles in GTA Online: tier list, stats and how to get them